Editor's note
This article has been marked for deletion from wikipedia. The editor has in the interests of prosperity taken a complete copy of the article for reference. If the article is deleted, then this page will be promoted to a link on the Main Page.
The article has now been deleted from wikipedia. Therefore this is the sole remaining copy of the Recurring Segments page on the internet. I have protected the page. DO NOT DELETE.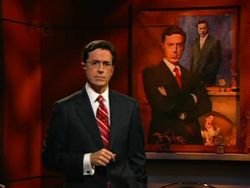 Template:Main The Colbert Report includes many recurring segments, running gags, catchphrases, quotes, and other miscellany, a partial catalog of which is presented here.
Recurring segments
The WØRD
Often, the first segment after the opening monologue is "The WØRD". The segment spoofs Bill O'Reilly's "Talking Points", the opening segment of the The O'Reilly Factor. It also resembles the commentary segments on other shows such as John Gibson's "My Word" on The Big Story (clips of which were used on the May 15 episode). In it, Colbert chooses a different word or phrase each night as the basis and theme for a rant on a topical subject. Displayed next to him is a "bullet point", which summarizes or comments (often ironically) on whatever Colbert is talking about. This bullet point often serves as a counterpoint to Colbert's absurdity, delivering the punchline to an outrageous statement of Colbert's. In some jokes, the text simply completes his sentence in a poignant or visually satirical way. In other cases, the bullet point simplifies or elaborates on some point; for example, Colbert mentioned in early interviews that he would say something like "I'm angry!", while the bullet point would list "Colbert = Angry". The first bullet point is often the night's word itself; the only instance of when this did not occur was on September 27, 2006, where he pretended to forget the word.
On February 1, 2006, he addressed the bullet as though it were alive, saying, "That's right, bullet." On February 9, 2006, it was implied that the bullet points are supplied by one of Colbert's seven brothers, while on May 9, 2006, the bullet points themselves implied they were part of Colbert's subconscious (as he insisted that he did not have a subconscious). On August 8, 2006, in a rare occurrence, Colbert acknowledged a bullet point questioning his lack of duty to the United States Army, telling the right side of the screen to "shut up". Another example would be an episode where he focused on "Xmas", he said "*** damn" and the bullet point responded with "The word that was beeped out was God."
As of July 20, 2006, five episodes did not include "The WØRD". In each of these episodes, a special guest joined Colbert at the time "The WØRD" would normally have been shown, such as Miss Manners on the March 23 episode. Another did not have a specific "wørd"; rather, the absence thereof provided the theme of the segment. On August 14, 2006, The Colbert Report did not feature a "WØRD" segment. In its place, Jon Stewart was on the show to discuss his recent placement on the "Called Out" board and to eventually apologize for comments made about Geraldo Rivera. On the August 16, 2006 episode, Esteban Colberto of Colberto Reporto Gigante (see below) instead delivered a segment in Spanish entitled "LA PALABRA," complete with an accent over the second A. On the August 24, 2006 episode, an audience member who had been transformed into a Colbert fanatic by the show 30 Days invoked several recurring elements, one of which was, "The WØRD". When the audience member invoked, "The WØRD" the, "The WØRD" started with the bullet point, "HELP!" The segment was short lived since Stephen ordered security to remove him from the audience. As of August 16, 2006, this is the only episode which has had two segments of "The WØRD" in one episode.
On September 27, 2006, Colbert conducted "The WØRD" without remembering the night's word itself (it was not shown as the first bullet point). After some attempts at guessing (including "offensive", "leaks", "lack" and "hobo trap"), he later remembered—and re-invoked—"The WØRD" (Iraq) near the end of the segment, but only after stumbling on to it from a similar sounding phrase: "a rock and a hard place".
He possibly did this to show how Americans seem to be "forgetting" about Iraq (saying things like, "It was in the news...," "people think it's been going on for too long", and picking up a newspaper with the headline "This Is War!", but still not getting it.
Beginning in October 2006, Colbert has frequently omitted "The WØRD" from his episodes.
All You Need To Know
This segment boils down complex ideas into naively or cynically short sound bites. For example, when Samuel Alito was appointed to the Supreme Court, Colbert said, "All you need to know? Stock up on Trojans," a reference to Alito's pro-life views.
Formidable Opponent
"Formidable Opponent" is a segment that features Colbert debating himself using a digitally created mirror image and chroma key technology to change the color of his tie.
Conservative Colbert usually wins the debate by hypothesizing a terrifying (though absurdly unlikely) situation that might arise if Liberal Colbert got his way (see misleading vividness).
For example, in the April 5, 2006 episode, discussing immigration, the mirror Colbert invited Colbert to imagine his job as a television anchor being stolen by an illegal alien named Esteban Colberto who runs a program called "Colberto Reporto Gigante". One of Colberto's catchphrases is, "Soy un águila de verdad" (subtitled in the segment as, "I am the eagle of truth"). On the July 25 episode, he fought himself over the president's decision on stem-cell research. The fight ended when he convinced himself that he had a deadly disease that could only be cured by embryonic stem-cells. Sadly, according to Stephen, one of the embryos used would have grown up and discovered a cure for the disease which didn't require the use of stem cells.
The Threat Down
In the "Threat-Down", Colbert lists the top five threats to American security in an effort to keep America on its toes. Bears are often high on the list, usually making the #1 spot. One of the threats so grave as to rank higher than bears was the Associated Press, after its article on truthiness failed to credit Colbert for the word. Other threats ranked first on the list, such as Hamas, have been so placed because of perceived relationships to bears.
For a short period of time, Colbert neglected to acknowledge bears as the number one threat to America, crediting roommates instead after a man killed his roommate over toilet paper. Colbert presented a bulk package of "Harmin" toilet paper (a parody of the Charmin brand) from under his desk, but failed to mention the bear depicted on the package. He apologized the following episode after reading a recent story about a polar bear crashing a hockey game, starting the show with a special edition of the Threat-Down in which bears were the only item on the list. Colbert stated, "They. Will. Kill. You." in reference to the hockey game attack.
An example of typical threat down is the threat down on August 21, 2006:
Tip of the Hat, Wag of the Finger
"Tip of the Hat, Wag of the Finger" focuses on Colbert's praising or lambasting a number of recent events in the news. Praise comes in the form of Colbert giving topics a "Tip of the Hat" whereas disapproval earns a "Wag of the Finger." It is common for him to give a "Tip of the Hat" to someone and immediately give them a "Wag of the Finger" for a different reason (or vice versa). This segment may be partially inspired by the "Cheers and Jeers" segment in TV Guide magazine, or Roger Ebert's "Thumbs Up/Thumbs Down" rating mechanism, which also formerly included a "wagging finger of shame". It may also be based on "Blackjack or Busted," a segment from an ABC News Podcast.
Freedom Trivia
Often, after a commercial break, a message is shown to viewers. The names are often portmanteaux: Sometimes it's a "Fract" (Freedom Fact), while other times it might be a drinking game, a "Friddle" (Freedom Riddle), a "Franagram" (Freedom Anagram), a "Frnap" (Freedom Snap), etc. These messages have not been shown for most of the show's second season and may have been discontinued.
"Movies that are Destroying America"
Stephen Colbert does movie reviews.
Many times he admits that he has not actually seen the movie that he is reviewing; this often leads to a humorous and mistaken impression of the movie because he bases his understanding of it only on the content of the trailer. Describing his approach to movie-going, he emphasizes, "In and out in 3 minutes; that's my motto" and "[Trailers] break it down into bite-sized pieces and they give you the best part of the movie anyway.". He claimes he does this to preserve American values.
The show has done an "Awards Edition," a "Christmas Edition," and a "Summer Blockbuster Edition." A common joke is for him to protest a movie most American conservatives would find harmless, then praise a movie they are protesting.
Movies that Colbert Has Denounced
Movies that Colbert Recommended
Better Know A District
Template:Details "Better Know A District" is a "434-part series" which highlights an individual Congressional district in each segment. It began as a "435-part series", 435 being the number of United States Congressional districts. However, on November 29, 2005, Colbert banned California's 50th District after his "friend" Duke Cunningham, the 50th's Representative, pled guilty to receiving over $2 million in bribes and resigned his seat. To punish the district for its failure to appreciate Cunningham, California's 50th is now relegated to the rarely-used "Never Existed to Me" status, and the map showing the United States' Congressional districts now appears as if the district does not even exist. This brought the series to a "434-part series". After this, Texas's 22nd District was "retired" on April 4 2006 when Tom DeLay announced that he planned to leave Congress. It was put back on June 8 2006 when he held a mock interview with Delay using prior video footage, and then retired again after the completion of the interview. Colbert continues to refer to the segment as a "434-part series".
Colbert introduces each district with the same nickname: "The Fightin' ___th." For example, Illinois's 5th District would be referred to as "The Fightin' Fifth."
The success of the series has bred a number of spin-offs, including "Better Know a President," "Better Know a Protectorate," "Better Know a Founder," "Better Know A Candidate," "Meet an Ally", and "Better Bash a New York Times Editor".
The Da Colbert Code
Periodically, Colbert will use his own "code" to determine the outcome of future events. The segment ties-in to Dan Brown's novel The Da Vinci Code with the similar name and use of coded messages, as well as the use of the Mona Lisa with Colbert's face edited in as a graphic. The Mona Lisa is used as part of the cover for most copies of The Da Vinci Code.
In order to get the answer to a question, Colbert starts off with a name of something and builds on that name until he gets the answer, in the form of an elaborate word association game. For example: To find out who killed John F. Kennedy: "John Fitzgerald Kennedy... F. Scott Fitzgerald... The Great Gatsby... The Great Escape... Escape From New York... The Big Apple... Apples and Oranges... A Clockwork Orange... Stanley Kubrick... directed Barry Lyndon... Lyndon Johnson".
On the week before the 2006 Academy Awards, Colbert used The Da Colbert Code to determine the winners of the Best Supporting Actor, Best Supporting Actress, Best Actor, Best Actress, and Best Picture categories [1]. Colbert correctly predicted all 5 categories, even dodging a near-miss on Best Picture. Although the traditional use of the code seemed to point to Brokeback Mountain, Colbert failed to make the final, humorously obvious connections, and instead simply chose eventual winner Crash. Colbert celebrated on the March 6th, 2006, episode with an "I Called It!" celebration and reminded the viewers that "this is the awesome and terrifying power of The Da Colbert Code" [2].
Stephen Colbert's Sports Update
Stephen Colbert's Sports Update is a weekly segment to show highlights of Stephen's favorite hockey team, the Saginaw Spirit and its opponents in the Ontario Hockey League, and to continuously follow the exploits of Steagle Colbeagle the Eagle, the mascot which the Spirit named for Stephen. This segment usually features Stephen recapping recent Spirit games, then trash talking the teams and cities whom the Spirit are about to play next.
Others
Other titled segments that have either appeared a small number of times, or have only appeared once, but may reappear in the future, include:

"Fantasy Colbert League"
"Gravitas-off"
"Stephen Settles the Debate"
"So Awful We Can't Bear to Show You"
"Around The World In 11.6 Seconds"
"Bring 'Em Back Or Leave 'Em Dead"
"Un-American News"
"Call From Wilford Brimley"
"Campaign Against Humbuggery"
"Stephen Colbert's Balls - For Kidz!"
"This Week in History"
"Who's Attacking Me Now?"
"Was it Really That Bad?"
"The Craziest F#?king Thing I've Ever Heard"
"Stephen's Sound Advice"
"Who's Honoring Me Now?"/"Who's Not Honoring Me Now?"
"Easter Under Attack."
"The Inbox"
"On the phone"
"Exclusive Fake Interviews"
"Stephen Makes it Simple"
"Road to World War III"
"The Four Horsemen of the Apopcalypse"
Many of the segments are introduced with a big, dramatic graphic and a music sting, which mimic newsmagazine shows like Dateline NBC. Sometimes Colbert will draw the "graphic" on a piece of paper when he finds out during the show that a graphic hasn't been made, such as for the "Campaign Against Humbuggery", and "The War on the War on Terror." If the segment is repeated it will feature the graphic Stephen suggested. Sometimes, a graphic is prepared for a segment Stephen hopes to feature in the future, such as "Death From Above: Bird Flu Will Kill Us All" (which never actually made it to the show).
Running gags
Recurring characters
Recurring themes
Balls: Colbert makes frequent references to "balls", (a slang term for testicles that refers to machismo or courage). He usually invokes the term to refer to either the courage of America or the lack of courage of other countries, as he perceives the matter. Colbert brings out a set of brass balls to illustrate this point from time to time, occasionally awarding them to a worthy recipient.
Nailing guests: Colbert frequently tries to "nail" his interview subjects by asking them tough questions. The questions are often so absurd that they catch the interviewee off-guard and speechless, prompting Colbert to announce: "I nailed you!" The names of people who have been nailed are written on actual nails and hammered into the Nailed Board. Colbert's interview philosophy (at least in theory) seems to be of "conquering" his guests rather than engaging them in debate; in the intro to an episode in which he was to interview former Crossfire co-host Paul Begala, the caption "I Bury Paul" appears.
The Heroes: In a manner familiar to listeners of conservative pundit Sean Hannity's weekday talk radio program, Colbert often refers to the studio audience, as well as viewers at home (whom he assumes agree with him), as "the heroes" of America.
Snakes on a Plane: Colbert frequently drops references to the movie Snakes on a Plane. Stories involving snakes (or once, frogs, with a mock-up "Frogs on a Plane" poster) would slowly have their developments hypothesized by Colbert, leading to a statement of fear at the thought of events involving "Snakes on a Plane!" One example included Colbert talking about mating snakes, and advising them to keep local relationships because "It can get chaotic if you bring Snakes On a Plane!" References are frequently accompanied by an exclamation that "I am TIRED of these motherfucking snakes!" which is Samuel L. Jackson's catchphrase in the movie. Colbert also commonly uses the phrase, "Get these motherfucking snakes off this motherfucking plane!"
Inability to pronounce foreign names: Colbert's character has a notoriously difficult time pronouncing foreign names, especially those of Middle Eastern heritage. With unabashed ignorance and disrespect he will often make several failed attempts before giving up, laughing. This originated as a parody of John Gibson's inability to pronounce the name of Iranian President Mahmoud Ahmadinejad. On several occasions on his show, Colbert pronounced Ahmadinejad's name correctly and with ease, but ever since Gibson's comment about the difficulty of the name he has jokingly been unable to pronounce it, pronouncing it at one point as "MAC-mud ad-A-mem-i-ne-JAD.
Trash talk: Colbert will sometimes take a moment to extensively insult the opponents of a cause he supports, in an attempt to aid his cause to victory in an upcoming conflict. Addressing the subjects of the tirades personally, Colbert will frequently use wordplay and unimpressive facts about the subject in a lengthy speech of a mocking tone. Past subjects have included teams in the 2006 FIFA World Cup, other dwarf planets during the time where Pluto's planetary status was in debate, and Ontario Hockey League teams that would face off against his adopted favorite Saginaw Spirit (see Recurring themes).
Recurring topics
Hatred of bears: In much the same way that Bill O'Reilly does not like the ACLU, Colbert often makes reference to his fear of -- and the threat posed by -- bears. This gag began in one of the early promos for the Report, in which Colbert assured his audience that he wasn't afraid of anything -- except bears. Bears are often mentioned as the #1 threat to America during Colbert's "Threat Down" segments; he refers to them as "godless killing machines." During an NPR interview, Colbert explained that he really does suffer from arctophobia, and had nightmares involving them during his childhood. See also Grizzly-polar bear hybrid.
Papa Bear: Papa Bear is the affectionate nickname the Colbert character gives Fox News host Bill O'Reilly, whom he reveres as a conservative symbol and a personal role model. Colbert takes every opportunity to defend and praise Papa Bear's actions. However, in one episode, Colbert states that imitation is the sincerest form of flattery, which is the reason he does not get mad at Bill O'Reilly for acting like him. Although most likely not intended by Colbert or his writing staff when the phrase was coined, it would not be a great logical departure to postulate that, given Colbert's oft-enumerated fear of bears, the title "Papa Bear" ironically refers to some perceived threat O'Reilly poses.
Love of BLTs: Periodically, Colbert will talk about his favorite sandwich: the BLT (Bacon, Lettuce, and Tomato). According to Colbert, the BLT is the only "honest sandwich" and is "an American Original." Colbert includes Lettuce, Tomato, and Bacon as his favorite "vegetables and fruits" and lets the audience know that the "B" does not stand for bread because bread "is implied in the word sandwich." He says he can understand someone not wanting a lettuce and tomato sandwich, and has also encouraged people to go the extra mile by making it a B.B.BLT, a natural source of pork fat.
Oregon: Whenever remotely relevant, Colbert accuses the Pacific Northwest state of Oregon of being "the Canada of California" and displays a graphic of Oregon decorated by the white-and-red maple leaf imagery of the Canadian flag. During the April 6, 2006 episode when interviewing Rep. Darlene Hooley, Colbert called Oregon "Washington's Mexico". In the July 30, 2006 episode, during a segment mocking Wikipedia, Colbert claimed to have edited this article to say that he had always referred to Oregon as "Idaho's Portugal". That same user also edited the article on George Washington to claim that Washington did not own slaves, another edit that Stephen Colbert claimed to have made to Wikipedia on that day's episode. The edits were made at 6:35 PM EST, a time when the show is typically still being taped and produced[6][7].
Soledad O'Brien: The CNN anchorwoman seems to be a personal favorite of Colbert's, and he likes to bring her up as often as possible in his "news coverage". On the March 30, 2006 episode of the show, he condensed his coverage of Women's History Month to talking about how O'Brien is "the one woman who encapsulates [all women]", joking that her multiracial background included "part cephalopod"[1]. On June 26 on the aforementioned year, Colbert said that his American Dream "involved Uncle Sam, a hot tub full of apple pie filling, and Soledad O'Brien." On the next night's show, discussing O'Brien's recent interview with Bruce Springsteen, he dubbed her "..my favorite omniracial news anchoress". Colbert was interviewed by O'Brien on the June 27th edition of American Morning (though there was no mention of his character's infatuation with O'Brien). [2]
Dr. Gregory House: Colbert has made several references to the main character of the show House as one of the country's heroes, as well as "better" than the cast of Grey's Anatomy. There is also a picture of House hanging on one of the walls of the set.
War on Christmas: Colbert joined Bill O'Reilly in calling for a boycott of stores which use secular greetings such as "Happy Holidays" in order to avoid offending non-Christians during the holidays by starting what he called the "Campaign Against Humbuggery". Later on, after discovering that Holiday translates into Holy Day, he momentarily switched positions, overlapping his "Campaign Against Humbuggery" animation with the "War On Holidays" animation, although it seems he later switched back. Colbert later declared that there was a War on Easter as well.
The Prescott Group: A parody of a lobbying organization to which Colbert occasionally refers. The Prescott Group produces "educational" films that are thinly-veiled propaganda for various industries such as oil and pharmaceuticals, he also mentions near unabashed bribery in how he said everyone got a high end electronic such as a plasma-screen TV or video iPod. The "educational" films are narrated by Ed Helms. The Prescott Group also released the adult film Fresh Hot Slice starring Colbert (credited as "Caesar Honeybee") and Rep. Brad Sherman (D-CA) (credited as "Sandy Kellar").
Wiretapping: Colbert's character is a defender of the Bush Administration in its wiretapping controversy and claims advocacy of spying in general. He proves this by 'wiretapping' his own phone, occasionally playing his 'taped' phone calls as show segments.
Bob Woodruff: Colbert has grown suspicious of the news anchor ever since Woodruff was announced to replace Peter Jennings on World News Tonight. Colbert often claims Woodruff is some form of robot, possibly a cyborg. Since Woodruff's recent near-fatal injuries at the hands of Iraqi insurgents, there has been no mention of him in a satirical manner, and he has been taken off the "On Notice" list.
Japanese TV segment: Oftentimes, during a segment focusing on Japan, Colbert highlights the art and culture of Japan by playing a video clip from 2001 from Japanese television, of a group of young women - the Japanese group Morning Musume - peeking through small round holes into a tank, into which a Monitor lizard is released. The video clip itself is available on iFilm: [8] and is an example of the often bizarre eccentricities of modern Japanese television and culture. Colbert often uses this clip, along with a series of others, to cheer himself up if he feels down about something political.
"I Called It!!!": To celebrate an achievement (real or imagined) by Colbert, the words I [blank] It!!! appear at the bottom of the screen while balloons and confetti decorate the set. I Fixed It!!! was used after Canada's general elections, in which primarily conservatives were elected, to emphasize how his show being broadcasted in Canada influenced the polling. I Called It!!! was used after his picks, using the Da Colbert Code, won their respective Oscars at the Academy Awards. A stretch, I Sired It!!! was used after the bald eagle named in his honor hatched, which he has taken to call his "boy."
Iranian hostage crisis: Colbert seems to be under the impression that the Iran hostage crisis never ended, and that he is the only one who remembers the hostages. For example, on May 1,2006 he made reference to its being day 9675 of the crisis (which is an accurate count from the start of the crisis on November 4,1979). (This is an allusion to the ABC News program Nightline, which originated during the hostage crisis as a brief nightly news update entitled "The Iran Crisis—America Held Hostage: Day xxx" where xxx represented each day Iranians held hostage the occupants of the U.S. Embassy in Tehran, Iran. Long after it was extended and restyled as "Nightline," covering news topics generally, anchor Ted Koppel famously continued opening the show by announcing the hostage day number.) Colbert however on an episode with Mark Bowden, author of Guests of the Ayatollah, "broke" character telling the audience that the hostages were released only after Reagan became President. Colbert also appears to believe that Elian Gonzalez was never found, as seen in another episode in which he showed a "Donde Esta Elian?" counter.
Mahmoud Ahmadinejad: In addition to intentionally pronouncing the Iranian President's name wrong, generally with someone else's name in it (for instance, "Mahmoud AhmedininddiP.Diddyjad"), he manages to insert him into any conversation even tangentially related to Iran. It should be noted that he had no trouble pronouncing the name correctly until he showed a clip of conservative pundits mispronouncing the name and commenting on its difficulty, after which he apologized and vowed not to repeat his mistake.
Robosaurus: Oftentimes, a clip of the car-crushing robot is shown when Colbert wants to "feel better about America."
Friends: Colbert often mentions many of his friends on the air, the majority of them being nameless and instead being labeled under their racial or lifestyle stance. The most mentioned is Alan, Colbert's black friend. Colbert also has a Native American friend, a Jewish friend (Jon Stewart), a gay friend (but "gay in a way [he] can handle"), a little-person friend who also happens to be his Latino friend, and a Japanese friend. They apparently get together to play Risk, with each person playing as their country of ethnic origin, which Colbert proceeds to invade as America. Recently an Internet petition was begun by Peter Adkison to become Stephen's gamer friend. A Sikh friend and a Muslim friend were mentioned in response to George Allen's ethnic rally.
-inistas: Colbert will periodically vilify an authoritative or influential group whose position differs from his own by referring to them as [group name]-inistas. Examples include the wordinistas for the American Dialect Society in his segment regarding the origin of truthiness, the factinistas for those who rely on facts (which gives authority in itself). This is an ironic parody of the conservative pundits on TV who view political correctness as an example of too much liberal control over the press and media. The suffix -inistas is derived from the Sandinistas, an ultra left-wing political group that operated in Central America which influenced Ronald Reagan's aggressive foreign policy in the '80s.
Tucker Carlson: Colbert frequently portrays media personality Tucker Carlson in an unflattering light. For example, in one episode he needed cheering up. He then watched a clip of Tucker Carlson, laughed, and replied, "I love clowns." Another time, when Colbert mistook the San Francisco Zoo banding his "adopted" bald eagle Stephen Jr. for torture and assembled a commando team (consisting of Bobby, Killer and Ric Ocasek) to "rescue" him, Colbert instructed the team, "Remember: If you get caught, you work for Tucker Carlson." A picture of Carlson in an unflattering pose [9] is often shown in The Word as a running gag.
Stephen & Melinda Gates Foundation: Occasionally, Colbert will reference this fictitious charitable foundation which he claims to be second only to the Bill & Melinda Gates Foundation in total charitable contributions from nonprofit organizations ending in "& Melinda Gates Foundation" The foundation received its first donation on July 17; the one American dollar donated will be used toward a still undetermined cause, as well as paying for the "We Did It" graphic that costs the foundation $500 every time they use it. Whenever mentioning the foundation, Colbert had always failed to name a cause that the charity supports, deciding that "[they'll] figure that out later"; however, on the July 31, 2006 episode, he decided to use the donations to send Lance Bass into space. Later, on the August 08, 2006 episode, he mentioned he used the funds from the foundation to create a new Tek Jansen animated adventure, titled "Stephen Colbert Presents Stephen Colbert's Alpha Squad 7 - Tek Jansen in 'Operation: Heart of the Phoenix - Dead or Alive: a Tek Jansen Adventure'."
Tube Socks: Colbert often mentions his many purchases of tube socks, usually when discussing a retailer.
Ching Chong Ding Dong: On an early episode of the show, Colbert claimed that hackers had stolen satellite footage of him preparing for a guest's appearance. In the "pirated" clip, which has been shown a few times, Colbert asks for tea from an assistant and, once receiving the tea, proceeds into an offensive impersonation of Asians. Colbert defends his actions by saying that it was not him saying those things, but rather a character he plays called Ching Chong Ding Dong. The piece is designed to analogize the relationship between Colbert the character and Colbert the actor.
Wikipedia: Often Colbert mentions Wikipedia as a replacement for facts and books. He has occasionally instructed people to log on and change certain entries to reflect his world view, such as distributing the idea that there are more elephants now than fifty years ago - "If enough people read it, it becomes reality."
The Stephen Colbert Bridge: After hearing that Hungary was letting people vote for the name of a new bridge crossing the Danube River, Stephen urged his viewers to go to the website and vote to name the bridge after him. On August 16th, Colbert announced that his vote totals for the bridge had increased from 1774 to nearly 500,000, surpassing Chuck Norris, the leading vote-getter in the early polls (who was then in fifth place). As of August 21, 2006, Colbert led the polls with over 6.3 million votes, leading the competition by the order of millions of votes. On the August 22, 2006 edition of the show, Stephen announced he had received over 17 million votes, and "called off the dogs" while noting that he now had 7 million more votes than the population of Hungary. Stephen also asked his viewers to name the new eagle mascot of the Saginaw Spirit Minor League ice hockey team "Colbert" or the "Colbeagle". On September 14, 2006, András Simonyi - the ambassador of Hungary to the United States - announced on The Colbert Report that Stephen Colbert had won the vote. Unfortunately for Colbert, Ambassador Simonyi declared that under Hungarian law, Colbert would have to be fluent in Hungarian, and had to be deceased in order to have the bridge named for him. However after saying the rules could most likely be bent, he invited Colbert to visit Hungary and view the construction in person and gave him a Hungarian passport.
The Atonement Hotline: Around the time of Yom Kippur 2006, Stephen installed and unveiled a special phone which he hopes all of his Jewish guests that have wronged him will call him with so that their names may be placed in the Book of Life when they die, according to Jewish religious tradition. The phone, which is white with a blue Star of David in the center and plays Havah Nagilah when it rings, originally had a Hebrew phone number, but after Colbert realized Jews don't have special Hebrew phones, the number was changed to 1-888-OOPS-JEW. The number was actually linked to a hotline where fans could leave their apologies for Colbert. Callers heard a recorded message from Stephen in which he advised callers to "be a mensch and unburden your soul by stating how you've wronged me."
Saginaw Spirit / Steagle Colbeagle the Eagle: Around the same time as the Stephen Colbert bridge campaign, Stephen encouraged his viewers to vote in the Saginaw Spirit's poll to name their new secondary mascot. The Colbert voters won the poll and the Spirit named the Steagle Colbeagle the Eagle character as their new mascot. Steagle is a normal eagle costume outfitted with glasses to look more like Colbert. Since then, Colbert has mentioned the Spirit many times on the program, rooting them on against their Ontario Hockey League foes.
The Boards
"On Notice" and "Dead to Me", originally phrases Colbert used as a warning or condemnation for something he disagreed with, were later made into giant-sized lists that contain a comically bizarre assortment of people and things that are supposedly displeasing to Colbert. When the "On Notice" list is full, Colbert is forced to either remove an item or move one to the "Dead to Me" list to make space. The "Dead to Me" list is shorter and is reserved for the most hated nemeses of Colbert. There are a few random and unexplained entries, such as "Owls", to again demonstrate the absurdity of Colbert's fixations. The 'Called Out' board is much more low-tech than the other two boards, given that it is only a whiteboard, while the other two require engraved placards. It has appeared only once, but in this appearance, Stephen claimed that it is used to display people who are "On Notice," but for whom a placard has yet to be made. The 'Called Out' board's only appearance was to have Jon Stewart's name written on it after the his refusal to apologize to Geraldo after Geraldo's comments on O'Reilly Factor about The Daily Show With Jon Stewart and The Colbert Report.
There is now an online "On Notice" Board Generator, with which users may create their own "On Notice" Board. Template:-
'On Notice'
Template:Colbert Report boards Since the inception of the "On Notice" board, the following items have remained: "Grizzly Bears", "Barbra Streisand", (What's Left of the) "British Empire", "Toronto Raptors", and "Lutherans". "James Brady" was added to the board on October 17, 2005, the Series Premiere. Colbert has mentioned that all of Canada (except for Nunavut) was previously "On Notice" sometime before the first episode aired.
Latest Addition: On September 19th, 2006, Stephen said he was putting "irony", the #2 threat on "The Threat Down" that night, "On Notice" after an incident where Willie Nelson was arrested for drug possession a week after Toby Keith spoke about smoking marijuana on Willie's bus on The Report.
During the July 12, 2006, episode of The Report, Colbert explained the procedure that people placed "On Notice" should follow. He stated that a person must answer their "summons" within 60 days, or risk being placed on the "Dead to Me" board for eternity.
"E Street Band" had been "On Notice", but guitarist Steven Van Zandt subsequently was interviewed by Colbert, given a gift basket to commemorate the occasion, and replaced by Michael Adams on January 9, 2006. The "Journal of Paleolimnology" and "Todd Rundgren" were placed "On Notice" on April 17, 2006. Rundgren was put on notice by Ric Ocasek. Also during the April 17th episode of The Report, "The Sea" had been added to the "On Notice" board while Ed Colbert was inconspicuous in his absence. It can only be presumed that "The Sea" has done something to incur Colbert's wrath since January 9, 2006. "The Sea" was removed on June 12, 2006, to make room for "Mort Zuckerman." During the July 12 episode, Mort Zuckerman was the guest and apologized to Colbert for the slight which originally got him "On Notice." He was officially removed from being "On Notice" during the last segment of the show. Colbert warned the "enemies of freedom" that there is a space open on the board for them.
On the August 10, 2006 episode of The Daily Show, the space was presumably filled when Colbert made a surprise appearance. After arguing with Daily Show host Jon Stewart over whether or not Stewart should apologize to Geraldo Rivera for making fun of him on his show, an enraged Colbert said, "Then you sir...are on notice!" and amidst protests from Stewart told him to "deal with it" before storming off the set. On the August 14 episode, Colbert placed Stewart on the new "Called Out" board. See below for more details on this board and Stewart's brief presence on it.
In addition, Colbert has put a number of things on notice over the course of the show that have not been formally acknowledged as having been removed, but nonetheless do not appear on either of his boards, including candy apples, Holiday Haters, the Hollywood Foreign Press Association, and The Washington Post. Pant cuffs also appear.
'Dead to Me'
Since the inception of the "Dead to Me" board, the following items have remained: "bowtie pasta", "Owls", "CNN en Español", "Screw-cap wines", the "Cast of Friends" and "men with beards."
"New York City intellectuals" was moved from being "On Notice" and replaced by "pant cuffs". Associated Press reporter Heather Clark was placed on the list on January 9, 2006. Additionally, Hamas had been on the list, but was presumably removed on January 24, 2006, after Colbert's realization that the bears featured in a Hamas-sponsored television program were fake.
On March 1, 2006, Colbert introduced the category of "Never Existed to Me" for things that he finds extraordinarily displeasing. Indeed, the only entry so far California's 50th congressional district has caused an uncharacteristic outpouring of emotion whenever it is brought up. On March 5th, the District was upgraded to "Dead to Me."
Colbert has also mentioned during a brief dialogue with Jon Stewart at the end of The Daily Show that people who watch The Daily Show and don't stay for The Colbert Report are dead to him as well, but as this was mentioned as part of a specific joke, they have not been added to the official list. Colbert once offered Jon Stewart the chance to add two things to his "Dead to Me" list during the conversation between shows. When Stewart declined, Colbert informed Stewart that he was "Wounded to Me" and "Fading Fast."
'Called Out'
As previously noted, the "Called Out" board has only been used once, on the August 14, 2006 episode of the show. The only name written on the board was that of Jon Stewart, but it was erased by the end of the show, making the board currently empty, save for the sloppily-written title of the board, which reads "CALLED OUT" in block, marker-colored letters.
The occasion for its one usage was a tiff between Colbert and Stewart over how best to react to a verbal dressing-down they received from television personality Geraldo Rivera during an interview with Bill O'Reilly on an episode of The O'Reilly Factor earlier in the week. Rivera had accused The Daily Show and The Colbert Report of being no more than a string of footage of "old ladies slipping on ice," and said that Stewart and Colbert had little influence on the world at large.
Stewart responded by lampooning Rivera and O'Reilly's comments on the August 10th episode of The Daily Show. Moments later, Stephen appeared on the set and demanded that Stewart apologize to Rivera. When Stewart refused, Colbert declared that he was On Notice, and stormed off the set.
On the next Monday, the 14th, Colbert informed his audience: when someone/something is placed "On Notice" but is yet to have its own card (shipped from Bangalore) to place on the board itself, that subject is placed on the "Called Out" board. Stephen had a stage-hand bring out the "Called Out" board, and Colbert then wrote Stewart's name on it, intentionally misspelling it as "John" (he explained this choice by claiming that "John" is "how it's supposed to be spelled, dammit"). He then brought Stewart onto the set and gave him one last chance at an apology. When Stewart reluctantly complied, Stephen erased the board by using a fake moustache that resembled Geraldo's own, famously large moustache.
Colbert's baby eagle: Stephen Jr.
The San Francisco Zoo honored Colbert by naming a baby eagle after him. He even picked the egg. Colbert frequently aired clips of the eagle as it grew, and referred to it as "a 'steagle', if you will". He even apparently ate remains of the eagle's egg in response to Tom Cruise joking about eating his child's placenta, claiming Cruise often overshadows him. Colbert, referring to Cruise's role in Kubrick's final film, Eyes Wide Shut, claimed that Cruise took up Stanley Kubrick's time when Colbert was trying to show him his script for "Clockwork Red, White, and Blue" (a parody of A Clockwork Orange, also directed by Kubrick). Bobby however alerted Colbert that Cruise was joking about eating his girl's placenta, after which Colbert said he was a more caring parent than Cruise.
Colbert has also given his 'boy' advice such as not limiting himself to one female eagle, and claimed that he could tell which eagle was his because it was 'kicking some ass' (upon the chick pecking another). He has also expressed concern that his 'steagle' was being cared for by two 'dudes' which was 'uncool.'
On one occasion, Colbert mistook footage of the zoo banding Stephen Jr. and keeping in a cage (with "only a large hole to fly out of") as torture, and dispatched a crack team (consisting of Bobby, Killer, and Ric Ocasek) on a cross country mission to rescue him. When attentive fans noted that Bobby and Killer appeared on subsequent episodes before any resolution to the rescue was given, Colbert explained that Ocasek was the only one to make it past Las Vegas. Upon learning that Stephen Jr. had been tagged and released into the wild, Colbert enthusiastically went online to track the eagle's current location (despite Bobby's protestations), and was heartbroken to discover that Stephen Jr. had flown into Canada. In an attempt to confront Ric Ocasek about this, he put up his "Ric Ocasek" tracker, which revealed that Ocasek was actually stalking Todd Rundgren, lead singer of The New Cars.
Colbert's bookshelf
At the end of some episodes, Colbert places an object on one of his bookshelves to emphasize a point he's about to make. Often, he'll acknowledge the audience with surprise, as if he did not realize they were watching, often with a "Oh, Hello. Didn't see you there..." or something similar. Items Colbert has placed on his bookshelf include:
Colbert also has a bookshelf with a "fiction" and "non-fiction" section. Watership Down and the Bible are in the "non-fiction" section, while The Origin of Species and Sexual Behavior in the Human Female are in the "fiction" section. A copy of Elie Wiesel's Night is duct-taped between the fiction and non-fiction sections.
Stephen Colbert's Big Brass Balls
This award first appeared on the
February 9
,
2006
Episode of
The Colbert Report
. The priapic trophy consists of two swinging golden balls, somewhat similar to a
Newton's cradle
.
Recipients of the Award include:
Elected as the new House Majority Leader to reform the House Republicans, who were "feeling the heat from lobbyist scandals", CNN revealed that Boehner rents an apartment from a lobbyist whose clients allegedly had an interest in legislation that he sponsored. Colbert supposes that as where Boehner lives is public record he therefore knew someone would find out, arriving at the conclusion that he didn't care, even though he ran on a platform of lobbying reform. This must, Colbert summarizes, have taken "muchos huevos grandes".
A cat scared a bear up a tree. On June 13th, 2006, Colbert gave that cat the award. At the end of that same episode, he told all his viewers to have a good night "Except cats. You're nocturnal."
Colbert Report Special Reports
On occasion, Colbert will devote the entire show to a specific theme, referred to as a "Colbert Report Special Report" (with the 't' in the second 'report' enunciated in contrast to the silent pronunciation of the 't' in the first). All normal recurring segments including The Wørd are influenced by the theme, as is the interview. Before the interview, Colbert adds some flourish to his walk from his desk to the interview area that relates to the theme. There have been ten Special Reports so far:
| Date | Title | Guest | Transition from desk |
| --- | --- | --- | --- |
| December 13, 2005 | The De-Ballification of the American Sportscape | Bob Costas | Breaks through paper barrier held up by cheerleaders |
| January 18, 2006 | The De-Edumacation of the American Brainscape | Frank McCourt | Held up by crossing guard |
| February 1, 2006 | The American Worker: A Hero's Tribute to the Besieged Workers of the American Jobscape | Emily Yoffe | Punches in with a timecard |
| February 27, 2006 | The De-Deification of the American Faithscape | Tony Campolo | Carried around on a chair alongside a bride, similar to a Jewish wedding |
| March 23, 2006 | Home, Hearth, Heart & Heartland: A Return to Traditional Values | John Kasich | Given a robe, pipe, and beverage by a woman in 1950s attire |
| April 24, 2006 | Money and Politics: The Machine That Ain't Broke | Hugh Hewitt | A man in a trenchcoat hands him a suitcase in clandestine fashion. |
| July 11, 2006 | Our Kids: What the Hell is Wrong With Them? | Tony Hawk | Skateboards from desk to a 70's-esque rec room complete with beanbag chairs and shag carpeting. |
| August 3, 2006 | War: What It's Good For | Paul Hackett | The camera appears to crawl on the ground as it moves to the interview table. Otherwise, normal transition before interview, but after interview introduces the Stephen Colbert World War III Eternal Flame (copyrighted by Stephen Colbert, all unauthorized use prohibited). |
| August 23, 2006 | American Pop Culture: It's Crumbelievable! | Gideon Yago (Damian Kulash of OK Go appears earlier in the program) | Normal transition, but the screen was split into three sections. |
| October 10, 2006 | A Salute to the American Lady | Ariel Levy | Walks across in a red pair of high heels |
Fictional biography of Stephen Colbert
The developing character of Stephen Colbert, both in terms of personality and history, plays a key role in several episodes of The Colbert Report. Colbert continually develops a fictitious backstory for himself, typically revealed piecemeal in short monologues accompanying a part of his show, which often gives precedent to his opinions on news today. So far, it has been revealed that his original name was "Stephanie", he stopped playing Dungeons & Dragons in 1984 after not only his parents sent him to an exorcism day-camp, but he also got a girlfriend. During his DnD career, he played a lawful good paladin.
It was presumably this girlfriend, Jenny, that gave him a scare when she missed her period after they had sex for the first time. Colbert was working in home construction at the time, and his work in tearing out walls was given an extra impetus by the anger he felt at the realization that: he'd have to abandon college, marry her, and forced to keep that job for life. When she told him shortly afterwards that it was a mistake, he dumped her, since he didn't like "being trapped." Colbert's former occupation as a construction worker may be a parody of conservative pundit Sean Hannity who was a construction worker prior to becoming a political commentator.
Colbert took a summer off to backpack around Europe to "find himself" only to have his stuff stolen on the last day and his friend abandon him. Colbert advises college students to not go to Europe because he "didn't get any action all summer."
Colbert was a weekend newsanchor on a small South Carolina television station in Patterson Springs as early as 1989 (when he first started denouncing monorails). Colbert also lived for a time in Chicago, Illinois, during the period when Michael Jordan and the Chicago Bulls were winning championships. In 1997, Colbert became a correspondent on The Daily Show, where his far-reaching expertise was evident from his many appearances as a correspondent and analyst on various topics. (For more, see List of The Daily Show correspondent titles.) Before he became a newsman, he was a carnival roustabout, worked in a marina as part of a corps of dedicated workers, and also served in a salon called "Hair Force"; before that, he was the lead in a band, Stephen and the Colberts.
According to various editions of "The Wørd," Colbert often thinks about being gay and loves goat cheese. On October 5, 2006 Colbert claimed to never wear the same pair of socks twice.
There is considerable overlap between his fictional biography and his actual biography, such as being the youngest of eleven children, growing up in South Carolina, living for a time in Chicago, and having been a Dungeons & Dragons player, although much of his fictional biography is obviously fantastical.
Fictional family
Stephen Colbert grew up with seven brothers, and as the youngest of eleven children. One of his brothers, Ed, is a lawyer who has advised the International Olympic Committee. Ed has recently been removed from the "On Notice" board. According to the March 9, 2006 episode, his sister Mary once asked his father what sex is, and his father replied that "it is something not very nice that happens between married people." On the same episode, he rapidly named all eleven siblings in his family: "Jimmy, Eddie, Mary, Billy, Margo, Tommy, Jay, Lulu, Paul, Peter, and Stephen." In the July 31, 2006 installment of "Tip of the Hat, Wag of the Finger," he asserted that the new Monopoly board game will "make [sure] certain big sisters don't make up their own rules. I'm talking to you, Elizabeth Louise Colbert!" He pronounced the "t" at the end of the Colbert family name, and later indicated that this sister is the aforementioned "Lulu."
Colbert has three children with his wife Evelyn (named in the July 12, 2006 episode), whom he met when she bid $600 for a date with him at a charity bachelor auction in Richmond, Virginia. In the tease for the July 13, 2006 episode, Stephen (dressed as a pirate) said that she had called him "difficult and insensitive, as usual" and confessed that "'Arr' marriage is in trouble." In the July 25, 2006 installment of a "Formidable Opponent" segment regarding stem cell research, Colbert makes reference to his fifteen children, "Little Mary, and Stephens 1 through 14."
In the July 27th 2004 episode of The Daily Show, Colbert mentioned that his father was a "turd miner" and his grandfather was a "goat-ball licker."
As of April 17, 2006, Colbert is the proud 'father' of Stephen Jr., a bald eagle named after him at the San Francisco Zoo.
In the July 26, 2006 episode Colbert inadvertently revealed that "Charlene", the ex-girlfriend he's mentioned many times on the show and who he's apparently been stalking since at least the late 80's, is actually his cousin.
On August 10, 2006, Colbert revealed the name 'Anthrax' is the name of his gold fish. He claims this is a family name.
Fictional works
A number of nonexistent works of literature, documentaries, etc. are featured in The Colbert Report, accompanying the fictitious achievements and connections that Stephen Colbert often references.
Tek Jansen
Colbert will sometimes pull out the 1800-page first draft of an unpublished book entitled Stephen Colbert's Alpha Squad 7: Lady Nocturne: A Tek Jansen Adventure and share a short excerpt with his audience. The subject matter and cover design parodies authors such as Tom Clancy, Clive Cussler, Don Pendleton, and writers of military action/adventure novels in general. The contents of the book also parodies Bill O'Reilly's novel, Those Who Trespass, and the excerpts are filled with satirical jabs at camp, self-praising writing styles, and rife with violence, action, and sex. Both aired excerpts and unaired chapters are featured exclusively on the Colbert Nation fansite.[10] On the September 26, 2006 installment of the show, inspired by the success of The Da Vinci Code, The Book of Fate, and other books involving secret codes, Stephen stated he was taking Lady Nocturne off the market and instead offering a new book entitled Stephen Colbert's Alpha Code 7: Lady Nocturne: A Tek Jansen Codeventure, which was just Lady Nocturne with two Post-It stuck to the cover.
On the March 15 2006 edition of The Daily Show, Colbert offered the position of Lady Nocturne in a film adaptation of the book to Natalie Portman.
On August 8, 2006, The Colbert Report began presenting Tek Jansen animated cartoons produced by J.J. Sedelmaier Productions (the same company that has worked with Robert Smigel on TV Funhouse cartoons for Saturday Night Live.)
The first cartoon was Stephen Colbert Presents Stephen Colbert's Alpha Squad 7 - Tek Jansen in 'Operation: Heart of the Phoenix - Dead or Alive: a Tek Jansen Adventure'. In addition to the comparison with O'Reilly's sexy antagonists, the cartoon is a parody of science fiction books and movies with complicated plots and made up names, and the opening sequence is a reference to the scrolling plot explanation in the Star Wars series. In it, Jansen's catchphrase is "Solar plexus!" Amy Sedaris, Colbert's partner from Strangers With Candy, provided the voice of Abraxia. During San Diego Comic-Con it was announced that Oni Press would publish a comic adaptation. [11]
Two other installments have followed, appearing about once per month:
'Operation: Destiny's Underbelly: Entrapped!: A Tek Jansen Adventure' (Sept. 18, 2006)
'Operation: Aurora Strikes Midnight: Courage's Arrival: A Tek Jansen Adventure' (Oct. 11, 2006) (Shown to in-studio guest George Lucas.)
Other Works
On the April 25, 2006 episode, Colbert introduced his new book: Top 50 States That Are Destroying America. This was introduced during his Threatdown of the week as part of the #4 threat of Illinois. So far, not too much is known about this book except that Illinois is tied with Delaware for #32 on the list.
Other nonexistent books "written" by Colbert include
How Native Americans Have Maybe Been Screwed by this Country
Don't Buy This Book if You Don't Have the Balls
Silent Night: Reassessing the Sociological Imprint of the Tiananmen Square Massacre
Don't Buy This Book if You Don't Have the Balls — For Kids (a parody of Bill O'Reilly's following up his book, The O'Reilly Factor, with The O'Reilly Factor for Kids.)
Colbert Lib
The Colbert Report : Emergency Evacuation Manual (from the segment with Paul Dinello as Tad, the building manager)
He's Just Not That Fanatical About You
Colbert was also credited with one fictional book while still a correspondent on The Daily Show (on January 21, 2004), called Yet Another Pointless JFK Biography.
Another work, featured thus far in two episodes, is Stephen Colbert's Hiphopketball: A Jazzebration, a fictional documentary that was supposedly developed in 1995 by Colbert as a look at how jazz and hip hop have influenced basketball. A Jazzebration was first shown to the public on the January 9, 2006, episode of The Colbert Report after Colbert accused Kareem Abdul-Jabbar of stealing the idea for his upcoming untitled documentary. Colbert claims that Abdul-Jabbar thought up the idea after Colbert sent him a clip from the as-yet-unreleased documentary. However, on March 14 of that year, he revealed that Kareem had shown him a clip of his documentary, and Colbert was so impressed, he welcomed Kareem to appear in Jazzebration's "2006 remix."
The January clip shows Colbert clad in all red basketball gear and dribbling a basketball with a saxophone hanging from a neckstrap. He begins to rap, while shooting a basketball (which goes through the net during a cut-away): "I'm wide open so pass the ball my way / And I'll dribble that shit right up the parquet / Nothing but net as I show you how I flow / Swish motherfucker now listen to me blow". Colbert then blows notes on the sax, shoots the instrument itself through the hoop, and walks off screen.
The March 14 episode features the sequel to "A Jazzebration", Stephen Colbert's Hiphopketball 2: Rejazzebration Remix 06. The clip features Colbert, dressed in (different) basketball garb, holding a saxophone and dribbling a ball, and Abdul-Jabbar playing a string bass. They alternate rapping lines of the song, which reads: "Colbert is back, but he's not alone / Got Abdul-Jabbar and my saxophone / Giving props to Miles and John Coltrane/ Kareem appeared in the movie Airplane / Bebop / And Hip-hop / Some layups / A dunk / And now we will jam like Thelonious Monk". At this point, Abdul-Jabbar plays the bass and Colbert blows into his saxophone while fingering randomly. At the end of the video, Colbert and Abdul-Jabbar high-five in celebration.
Colbert's fictional television persona also claims to have fronted a band called Stephen and the Colberts for a period of time in the 1980s. They mostly did love songs and power ballads. On the February 9, 2006 episode of the Report, Colbert unveiled his music video[12] as a special Valentine's Day treat. The song was dedicated to his ex-lover Charlene and apparently does not violate the restraining order she has against him. The title of the song is "Charlene (I'm Right Behind You)" and was recorded for the album The Charlene Collection, Volume 1. The video was directed by Jeff Cooperman.
The Lyrics are as follows: Everytime I see you I think of you / Everytime I'm near you I think of you / I think of you when I dream of you / When I'm taking pictures of you / I think of you when I'm in a blimp looking down from up above you / You know I'm missing you / My mind is kissing you / I'm right behind you now Charlene / Waiting watching oh so close / I'm right behind you now Charlene / You'll never be alone again / No
The clip shows Colbert sans glasses with a fluffy, Sting-esque 80s hair style, ripped jeans, cowboy boots and a guitar on his back.
Fictional products
Colbert has also featured a number of fictional Colbert Report products on various episodes, including towels, shirts, and even a cruise. This is a takeoff of the strong merchandising element of shows like The O'Reilly Factor.
Of these, the most commonly recurring product has been "Stephen Colbert's Scorn", or just "Scorn", a "fragrance for men" which is illustrated by an image of Colbert with his back turned. The cap of the cologne bottle is also shaped like testicles, a reference to Colbert's on-air fixation with "balls". The scent of the cologne itself is unclear, though Colbert's comments indicate that it is unpleasant, and it appears as a translucent green liquid. "Scorn" debuted on December 14, 2005 as an alternative for coal to stuff into the Christmas stockings of "Blame America Firsters"; "I was going to give them a lump of coal, but why should they get free heating fuel when it's their failed environmental policies that are responsible for the high oil prices in the first place?" Colbert asked.
Although Colbert initially described "Scorn" as having "truly a terrible scent" and introduced the cologne as an item to give to people one hates, "Scorn" was later advertised more generally, and has been portrayed in a more positive light to more fully satirize pundit advertisements. "Scorn"'s bottle indicates that it is "for heroes", per his description of Americans who watch the Report; whether this means that "Scorn" is meant to be worn by "the heroes", or purchased by them and subsequently given to people they hate (per its initial appearance), is unclear. Colbert asked Mark Cuban how to go global with "Scorn" on December 16, 2005, and Colbert included "Scorn" in his gift baskets to the E Street Band on January 10, 2006.
"Scorn" has also appeared in one episode as the name of a fictional Colbert clothing line. On January 24, 2006, Colbert catwalked in front of a poster for Scorn, with the tagline "The Right Clothing For The Right Man", while sashaying towards his guest, Robin Givhan, fashion editor for The Washington Post.
Colbert's employees are paid in company scrip called "ColBucks" that are only accepted at the company store. Among the items available for purchase are "Colbert Condon'ts", which carry the slogan, "These condoms don't run".
In the spring of 2006, Colbert also announced that he would begin selling his sperm online after reading that a sperm donor had decided to pull his "self made" product from the market. The anonymous man's identity was stolen by Colbert, who announced that his specimen would be called Formula 401. A few weeks later, Colbert discussed how the huge demand for the product had tapped him, and Formula 401 would become a seasonal product. A recent supply, for Russians only, was offered on May 11, 2006 in response to Vladimir Putin's calling for higher fertility rates in Russia. He has subsequently offered a special edition of the product, Formula 402, which is guaranteed to have been produced under extreme circumstances, such as running while holding scissors. He also said some of the specimens would not be his sperm, ala Russian Roulette.
On May 8, 2006, Colbert revealed a new product, the "Colbert Condon'ts," in an effort to introduce an alternative to condoms. The "Condon'ts" come in small packages like condoms, but are actually just hand wipes with "old person" smell on them. A user would put them up to his nose in order to curb his libido. The backside of the package contains a picture of the user's mother.
On June 27, 2006, Colbert gave the opening speech to the inaugural MI6 Conference on game marketing. During the speech he unveiled his latest project, a video game called "Stephen Colbert's World of ColbertCraft", a play on World of Warcraft. Colbert went on to state that his new title would sell better than his previous title "Stephen Colbert's Escape From Skateboard Mountain" though for cost reasons, both games take place on Skateboard Mountain. The gameplay consists of giving political speeches as Colbert or Bill O'Reilly, it was also unveiled that Tony Hawk would be an unlockable character upon completion of the game. Colbert claimed the game would be playable on Xbox Live (though he did not say if it was on Xbox or Xbox 360), where players could discuss Colbert's ideas. It was also mentioned that on Nintendo's Wii console, players could use the controller to wag Colbert's Finger presumably in some form of "Tip of the Hat/Wag of the Finger" mini-game. There was no mention of a release on PlayStation 3 or PC. It was stated that the game is currently in a very rough state; when one goes to save the game, it irreparably damages most plasma televisions. Colbert however states that he is confident with the marketers at the MI6 Conference. Both titles mentioned carry the ESRB rating of "T for Teen".
On the July 11, 2006 episode "Tony Hawk" (Special Report: What the Hell is Wrong With Our Kids?) Stephen Colbert 'officially' announced the above video game. It was also announced that Super Mario would be a playable character upon completion. He went on to describe Mario as a surprising fiscal conservative. The game was also confirmed for release on Xbox.
On September 27, 2006, Colbert issued a warning regarding "World of ColbertCraft". A secret "Adults Only" level had not been removed from the game prior to media production. He instructed parents to not allow their children to execute a specific keypad combination, which he then disclosed on the program.
It should be noted that the game is a joke.
Opening credits
The opening credits always features several words to describe Colbert. The most prominent of these words will change occasionally. Here is a list of the words that have been included:
See also
References
↑

These items were only on camera and removed from shelf in order to allow Colbert to count them as tax-deductible work expenses; they were then removed from the shelf.